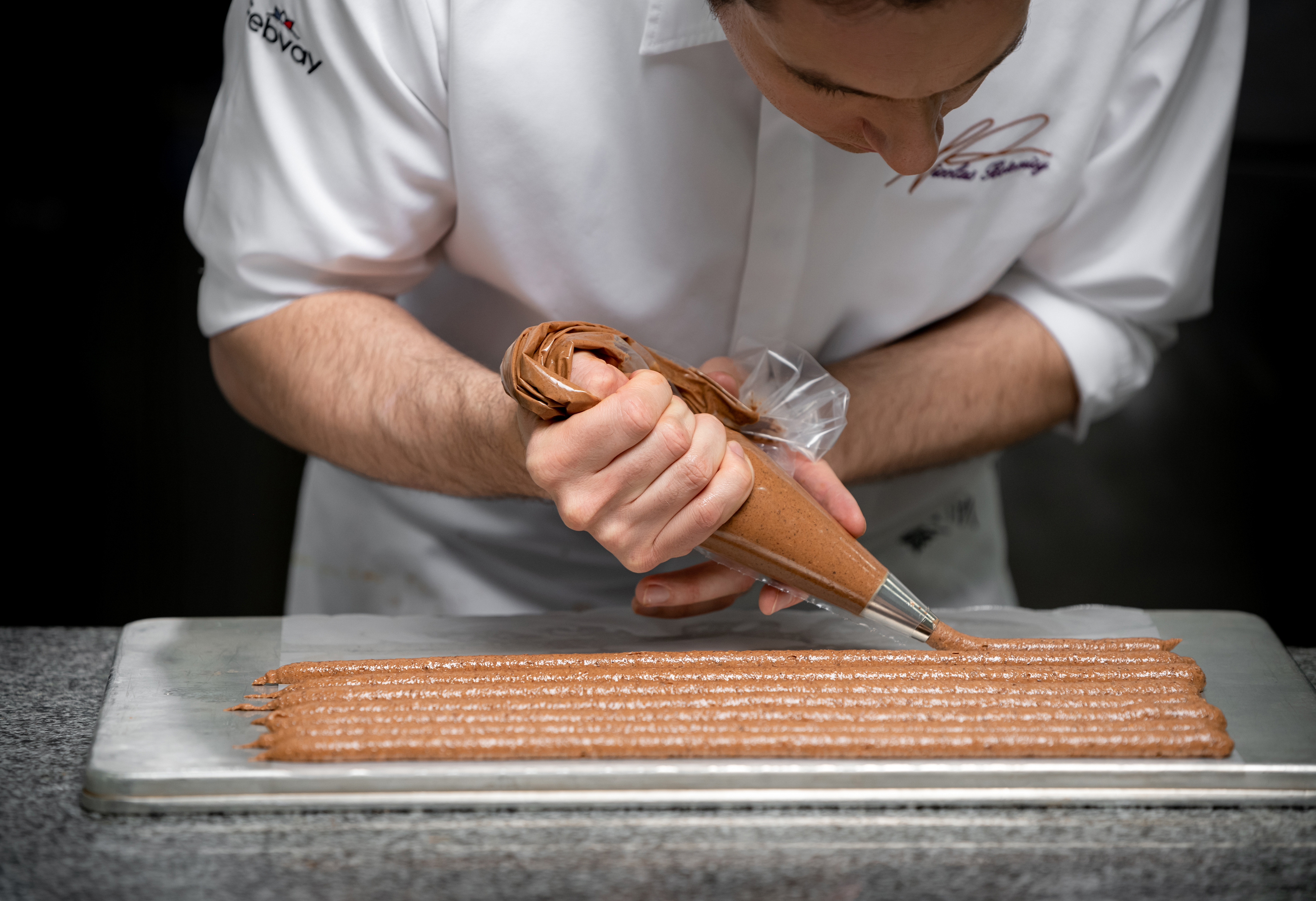 F

or the one who knows me, I don't like to be called "Chef"... I often answer that my mum named me Nicolas, you should call me so...
-Because it allows to share, we learn from each other all the time, no secrets or mystery, the pastry is in constant evolution and we all contribute to in our way at our own scale.
-For the passion which bring us together regardless of our nationality,  culture or  language, the love for good food and good ingredients is universal.
-For the possibility to travel and to discover some new cultures and to get impregnate and transform that emotion into a plate, a bonbon, an entremets...
-Eating is a daily act, if we can enjoy and appreciate... to contribute to it is my job.
-For the technical side and the importance of the gesture which takes time to masterize...and that we never master enough.... Even if I give a lot of importance to the technic which is the base of any constructions, I don't call myself a technician. I love to think that our job is overall based on the taste, the emotion and the act of sharing, the technic is just a way  to share all of that, not the final purpose. Like the alphabet and the words which are the structure of the phrase to express an idea. A perfect technic is nothing without a franc taste, balanced textures and a felt emotion at every spoons and vice versa.
-For the proximity that it gives, when I was working in restaurant or hotels, I always felt a frustration to not see the final reaction of the person eating the dessert and to have the feed-backs. The fact to now be able to share and debate around dessert with passionated people make everyone growing.
Other few details

, I speak fluent English, and Japanese, with French as a mother tongue. I did about 130 events (classes, demonstrations, hands on training...) in either languages.
I am passionate with photography, mostly the portrait and the food photography because, like pastry, everything is just about emotions and point of view...helped by the technic.
P

our ceux qui me connaissent, je n'aime pas que l'on m'appelle "Chef"... je réponds souvent ma mère m'a appelé Nicolas, faites en de même....
- Pour le partage qu'il permet, on apprends sans cesse des uns des autres, pas de secret ou de mystère, la pâtisserie est en perpétuelle évolution et nous y contribuons tous à notre manière. 
-Pour la passion qui nous rassemble tous quelque soit notre nationalité, notre culture ou notre language, l'amour pour la bonne cuisine et les bons ingrédients est universel.
-Pour la globalité et la possibilité de voyager et de découvrir de nouvelle culture et de s'enrichir tout en retranscrivant cette émotion dans une assiette, un bonbon, un entremets...
-Manger est un acte quotidien, si l'on peut y prendre du plaisir, s'épanouir... y contribuer est mon métier.
-Pour la technicité et l'importance des gestes qui prennent du temps à maitriser...et que l'on ne maîtrise jamais assez... Même si j'apporte beaucoup d'importance à la technique qui est la base de toute constructions, je ne me définit pas comme un technicien. J'aime à penser que notre métier est avant tout basé sur le goût, l'émotion et le partage, la technique est juste un moyen de partager tout cela, pas une fin en soit. Un peu comme l'alphabet et les mots qui sont la structure d'une phrase afin d'exprimer une idée. Une technique parfaite n'est rien sans un goût franc, des textures qui s'harmonisent et une émotion ressentie à chaque cuillères et vise versa évidement.
-Pour la proximité que cela procure, lorsque je travaillais en restaurant ou hôtel, j'avais toujours une frustration de ne pas voir la réaction finale de la personne mangeant le dessert ainsi que les retours. Le fait de pouvoir échanger et de débattre sur un dessert avec des passionnés fait grandir tout le monde...
D'autre petits détails

, je parle Anglais et Japonais couramment, et français comme ma langue maternelle. J'ai participé environ à un peu plus de 130 événements (stage, classes, démonstrations...) dans ces langues.
Je suis passioné de photos, surtout le portrait et le culinaire car comme la pâtisserie, tout n'est qu'émotion et point de vue...aidé par la technique.